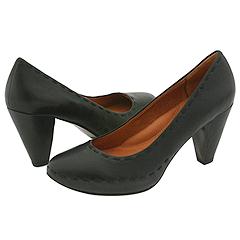 It's not often that comfort and style collide in a shoe, but this
pump
by Kenneth Cole's Gentle Souls line manages to pull the feat off, brilliantly. With flaxseed pillows embedded in the footbed, and a nice curvy heel, these pumps are luring me despite their hefty price tag! I'm going to keep an eye on them, and update this post if they go on sale.
I originally posted about these shoes from Zappos.com for $268.94. Well, here's an update from competitor Solestruck.com: Get these shoes for $187.96! At Solestruck.com, get 20% off your order up to 3 pairs, at checkout by using code FEHUDF6NE; offer expires 02/11/08. Also get free shipping and free returns. They're $234.95 from Solestruck.com, then after the discount they're
$187.96 -- sometimes, you hope for a sale, and it comes your way!